NOTE: This Mini-Series program is ONLY available for Pharmacy Continuing Education (CE) credit.
Written & Directed by:
Craig D. Cox, PharmD, FCCP, BCPS
Associate Professor, Pharmacy Practice
Vice Chair, Experiential Programs
Texas Tech University Health Sciences Center School of Pharmacy
This 6-episode Series follows a pharmacy resident and preceptor during a clinical rotation at a hospital.

Each video episode is 5-8 minutes in length and builds upon the next.

During the Series you will view interactions between the resident, preceptor, residency director, and health-care team as they progress through the clinical rotation. At moments throughout each episode, two preceptor experts provide humorous interactions and share insight on how they would deal with each learning situation. The experts will discuss principles focused on residency accreditation standards, the four major preceptor roles (direct instruction, modeling, coaching, and facilitation), and the concept of continuous residency program improvement.
Overall Course Objectives
1. Describe the importance of getting to know your students and/or residents on an experiential rotation.
2. Briefly discuss ways to introduce the concept of Interprofessionalism during an orientation for an experiential
3. Explain the importance of values and ethics to an Interprofessional relationship.
4. Discuss the importance of good communication skills for creating a positive Interprofessional environment.
5. Recognize the importance of knowing the roles and responsibilities of other health care professionals.
6. Discuss the concept of teamwork and the role it has in an Interprofessional environment.
7. Determine the appropriate level of supervision you should provide for your student and/or resident during an
8. Discuss the role of reflection in the creation of a successful Inteprofessional teaching environment.
Resume a Course:
To resume a course, login to your account at the top right side of the page. Next, go to "Pending Programs/CE" in the top gray toolbar. Select the "Distance" tab and then select "A Preceptor Mini-Series 3: A Resident Preceptor's Experience: It's Not as Easy as it Looks".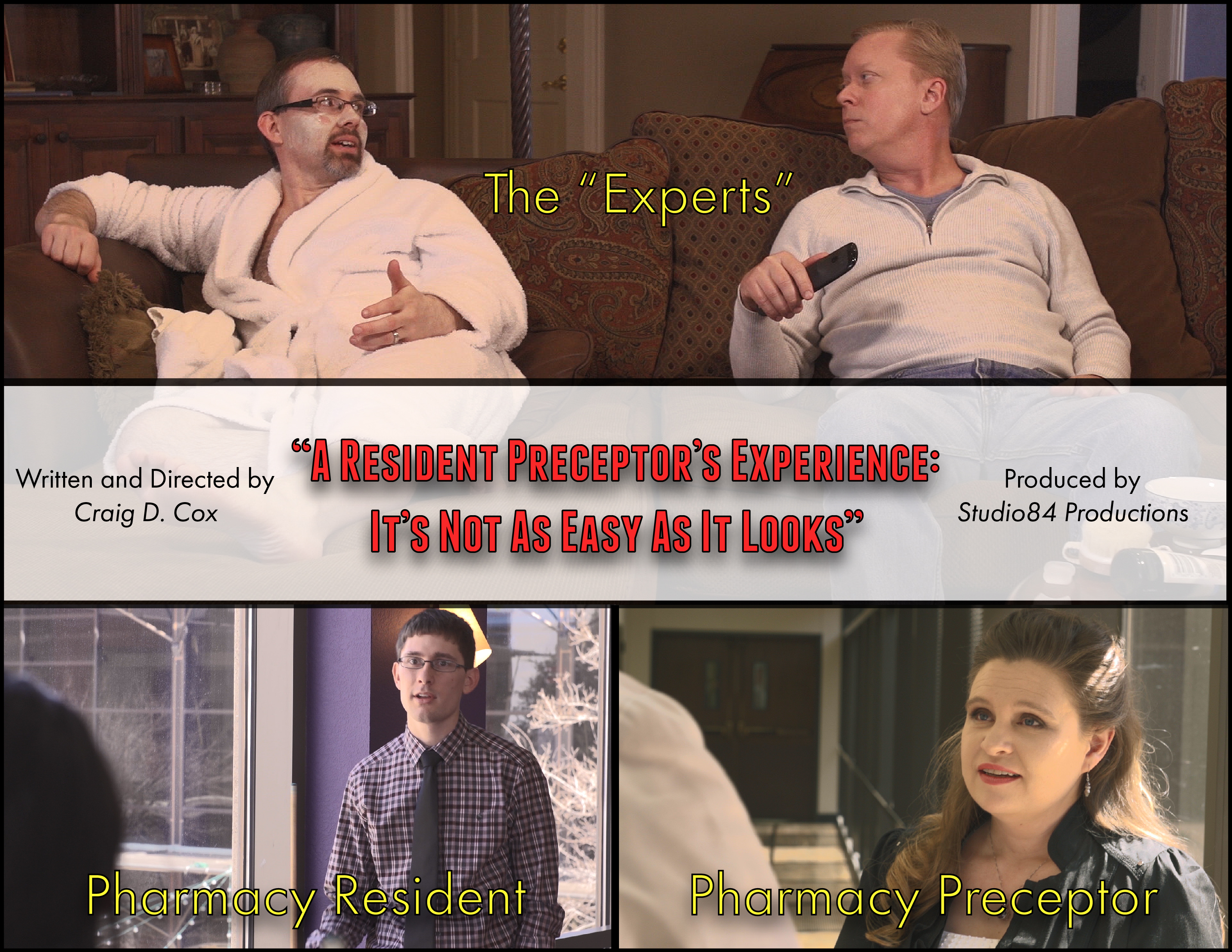 Registration Fee:
This program is
FREE
to Texas Tech Health Sciences Center Preceptors.
For other state of Texas Preceptors the cost is $12 and for non-Texas Preceptors the cost is $15 for the 1.5 hour CE program
(see below)
. Individuals will be audited to ensure they selected the correct enrollment type. Those found to have falsely selected the wrong enrollment type for the lesser registration fee risk having their CPE credits removed from their NABP eProfile.
Course Requirements:
This online course is available for 3.0 hours of Continuing Education credit. In order to receive credit, all individuals must watch all (12) individual video episodes and complete the short assessment following each episode. After all videos have been viewed and assessments complete, a final course evaluation will be made available. Following completion of the course evaluation, continuing education credit will be granted.
Group Discounts:

If you are interested in a group rate for your organization, college/school, institution, or other entity please click here.
Fee
$15.00
CE Hours
1.50
CE Units
0.150
Activity Type
Target Audience(s)
Accreditation(s)
Texas Tech University HSC School of Pharmacy is accredited by the

Accreditation Council for Pharmacy Education

as a provider of continuing pharmacy education.
Requirements for CE Credit
You will have the opportunity to obtain CE credit for each individual video episode (0.25 contact hours). You may complete the video episodes in any order, HOWEVER, it is strongly encouraged that you do them in order (Episode 1, 2, 3, etc.) since each video episode builds upon the next. You can complete the video episodes at your own pace. Once you complete all 6 video episodes you will receive 1.5 contact hours of credit. To receive credit for each individual video episode, you must view the video episode and complete the corresponding evaluation with reflection questions.
For any individual video episode you fail to complete in its entirety, including the reflection questions, your credit for that specific video episode will be removed from CPE eMonitor.
To Register for this Program:
Select yo

ur fee type and then hit "Purchase Now" at the bottom of your screen.
If you would first like to read a description for each of the video episodes included in this course, please do so below.
Please choose a Fee Type from the Drop Down Menu Below:
I am a