NOTE: This Mini-Series program is currently available for Pharmacy Continuing Education (ACPE) credit, CME credit (Physicians), Physical Therapy, Occupational Therapy, and Speech-Language-Hearing. Nursing may be able to utilize ACPE or CME credit toward their licensure.
Craig D. Cox, PharmD, FCCP, BCPS
Associate Professor, Pharmacy Practice
Vice Chair, Experiential Programs
Texas Tech University Health Sciences Center School of Pharmacy
Renee Bogschutz, Ph.D., CCC-SLP
Director, Interprofessional Education
Texas Tech University Health Sciences Center
Disclosure / Resolution Conflict of Interest
It is the policy and practice of the Texas Tech Health Sciences Center Office of Continuing Medical Education to resolve all potential conflicts of interest prior to presentation.
All members of the Planning Committee for this activity have signed a disclosure stating no relevant financial relationships with any commercial interest that could create a conflict of interest.
Contributing individuals: Craig D. Cox, PharmD, FCCP, BCPS; Renee Bogschutz, Ph.D., CCC-SLP; Brian Irons,
PharmD; Lamicha Hogan, RN, MSN, FNP-C ; Dawndra Meers-Sechrist, Ph.D. and Mimi Zumwalt, MD.
Change of Heart: An Interprofessional Mini-Series was directed by Dr. Craig Cox and Dr. Renee Bogschutz. Dr.'s Cox and Bogschutz are employed by Texas Tech University Health Sciences Center and receive a salary. They have no other financial or nonfinancial relationships to disclose. This program will focus on the interprofessional education mini-series as developed through Texas Tech University Health Sciences Center and will not include information on any other similar or related products.
Produced & Edited by:
Texas Tech University Health Sciences Center (TTUHSC) School of Pharmacy and TTUHSC Office of Experiential Education
This is a 12 episode, knowledge-based, video series developed to educate both preceptors and students regarding their participation in experiential rotations in an Interprofessional setting. Each individual video episode is 5-10 minutes in length and builds upon the next. The series follows multiple health professional preceptors including nurses, pharmacists, physicians, speech-language-pathologists, occupational therapists, and physical therapists as they precept their students in both a hospital and extended care setting. Through a combination of inappropriate and quality Interprofessional interactions, attendees will learn key principles regarding orientation, feedback, teamwork, and dealing with difficult preceptors or students. At moments throughout each episode, two preceptor and two student experts provide humorous interactions and share insight on how they would deal with each learning situation. Each individual episode ends with two important preceptor and two student pearls.
Overall Program Objectives:
Introduce general concepts of interprofessional precepting on experiential rotations involving physicians, nurses, pharmacists, physical therapists, speech language-pathologists, and occupational therapists.

Discuss communication, teamwork, roles and responsibilities, and values/ethics through challenging scenarios that occur in both an inpatient and outpatient settings.

Reflect on challenging student-preceptor scenarios and provide feedback on how the information will impact your role as a preceptor.

List characteristics of student learners that could create challenges for experiential rotations.

Determine how to modify your level of supervision to match student ability.

Describe the impact of timely, constructive feedback to students on clinical rotations.

Discuss the importance of lifelong learning and its impact on both student and preceptor performance.
Course Requirements:
This online course is available for 3 hours of Continuing Education credit. In order to receive credit, all individuals must watch all (12) individual video episodes and complete the short assessment following each episode. After all videos have been viewed and assessments complete, a final course evaluation will be made available. Following completion of the course evaluation, continuing education credit will be granted. A certificate of participation will be made available to participants immediately upon completion. For pharmacists, your credit will be immediately sent to CPE Monitor to be logged in your online account (be sure that all of your information is correct when you register). For physicians, you will need to request an official transcript as certificates will not be provided (see instructions below). For all other professions, you will be sent a formal certificate with your profession requirements for continuing education within 30 days of completing the program.
Resume a Course:
To resume a course, login to your account at the top right side of the page. Next, go to "Pending Programs/CE" in the top gray toolbar. Select the "Distance" tab and then select "Preceptor Mini-Series 5: A Change of Heart."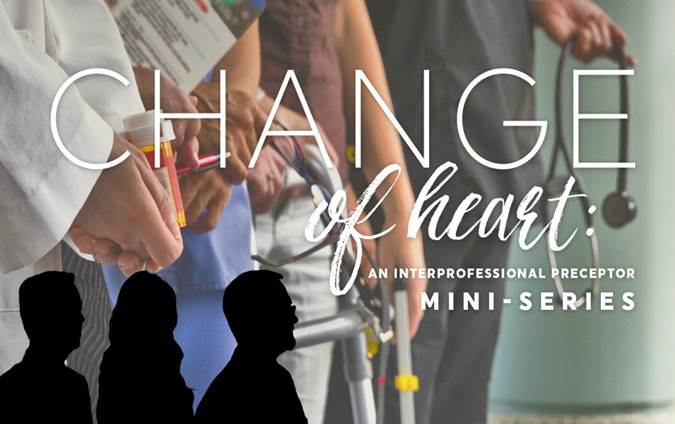 CONTINUING EDUCATION OPPORTUNITIES
Note: Each individual (regardless of profession) successfully completing the continuing education program will receive a certificate of completion. You will be able to access this under "View/Print CE" credit from the main page of the website. For individuals that require a "formal continuing education certificate" you will follow the process below, based on your health profession.
(1) Pharmacy - Your continuing education will automatically be processed through CPE monitor. You will not be sent an additional certificate.
(2) Speech-Language-Hearing - A formal CE certificate will be emailed to you (the email provided during registration), NO LATER than one week following completion of the activity.
(3) Physical Therapy - A formal CE certificate will be emailed to you (the email provided during registration), NO LATER than one week following completion of the activity. This only applies to Texas preceptors.
(4) Occupational Therapy - A formal CE certificate will be emailed to you (the email provided during registration), NO LATER than one week following completion of the activity.
American Speech-Language-Hearing Association (ASHA)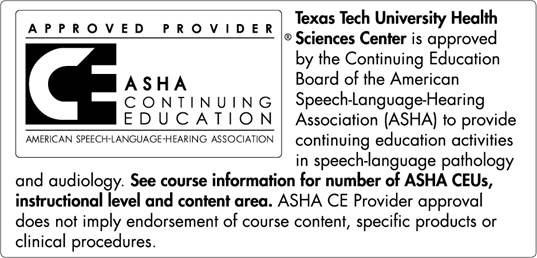 This course will offer for .30 ASHA CEUs (Intermediate level, Related area)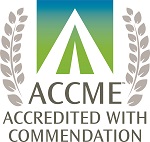 Accreditation Council for Continuing Medical Education (AACME)
Texas Tech University Health Sciences Center is accredited by the Accreditation Council for Continuing Medical Education (ACCME) to provide continuing medical education for physicians.
Texas Tech University Health Sciences Center Designates this enduring material for a maximum of 3 AMA PRA Category 1 Credit(s)
TM
Physicians should claim only the credit commensurate with the extend of their participation in the activity.
Texas Physical Therapy Association (TPTA)
This activity has been approved by the Texas Board of Physical Therapy Examiners for (3) CCUs for PT's and PTAs.
Occupational Therapy
This activity is eligible for a maximum of 3 hours/CEU's. Occupational therapy practitioners should claim only those hours actually spent participating in the educational program.
Many Boards of Nursing across the country allow nurses to count AMA PRA Category 1 Credit(s)TM toward their licensure. Participants should be aware of their state requirements and whether this applies to their area. Documentation of participation in this 3 hour activity can be obtained via the CME transcript. See above, how to receive a transcript.
Refund policy:
Once the program has been purchased there will be no refunds or exchanges. All sales are considered final.
Complaint policy and How to Request Accommodations:
Any participant may submit a complaint regarding the Mini-Series program to craig.cox@ttuhsc.edu . Any requests for special accommodations should also contact craig.cox@ttuhsc.edu for assistance. Thank you for your interest in the program.
Fee
$30.00
CE Hours
3.00
CE Units
0.300
Activity Type
Target Audience(s)
Nurses
Other Health Care Providers
Pharmacists
Physicians
Speech-Language Pathologists
Accreditation(s)
Texas Tech University HSC School of Pharmacy is accredited by the

Accreditation Council for Pharmacy Education

as a provider of continuing pharmacy education.
Please choose a Fee Type from the Drop Down Menu Below:
I am a